Found in Eastern Africa, Kenya is the birthplace of Kahawa or Kenyan coffee.
As a market-based economy, Kenya is a major investor in multiple industries, including agriculture, fishing, mining, forestry, energy, finance, and manufacturing, attracting massive interest from local and international investors.
As part of the agricultural sector, Coffee farming is a significant revenue generator, representing 33% of the country's GDP. Despite being an absolute coffee sanctuary, the potential of Kenyan coffee is yet to be fully unleashed, with a majority of farmers struggling to commercialize their investment.
"Kahawa is the Swahili name for coffee in Kenya."

Solai Coffee is bringing Kahawa to your table! Contact us today and discover your next favorite coffee beans! Kenya is located in the Eastern part of Africa.
It is a Republic state with 224,081 square miles, a population of 53,771,296 and the capital is Nairobi
It is home to the world's best long-distance runners and the first woman to win a Nobel Peace Prize.
Kenya is known for being the world's best safari destination, with 50 epic national parks and reserves that are home to diverse wildlife, including the Big Five.


History of (Kahawa) Kenyan Coffee
The story of Kahawa, or Kenyan coffee, has its roots in the 1800s when Scottish settlers inhabited the region's highlands. Besides being a border away from Ethiopia, the birthplace of coffee, it wasn't until a century later that the locals in Kenya began coffee farming. Kenyan highlands' elevation and high altitudes contribute to the formula of exceptional coffee beans known for their bright flavors, giving rich and fruity undertones like no other. 
To date, Kenya is known as a world beater in exporting arabica coffee. 
NB: Scottish Missionaries began Coffee Farming in the 1800s. Kenyan farmers began coffee production in the 1920s.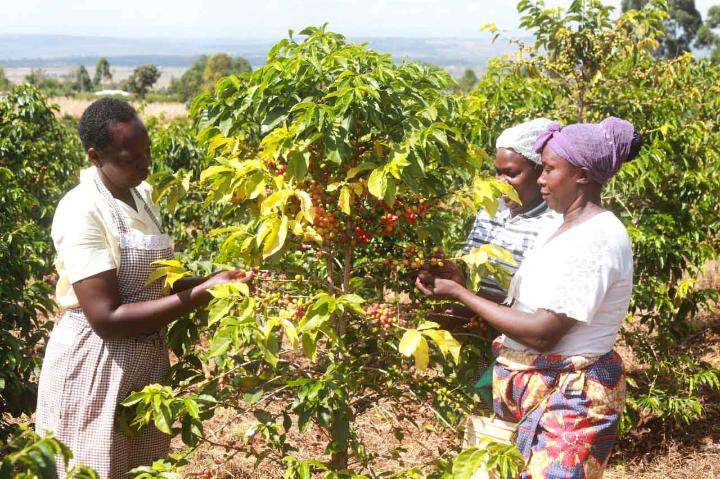 Women in coffee farming: Coffee farmers picking ripe coffee berries in a Kenya coffee farm

Coffee Farming in Kenya
Kahawa, or Kenyan coffee, is grown in small and large farms. According to COSA, small-scale farmers produce 65% of Kenyan coffee. Responsible for about 87 437 hectares of coffee farms, small-scale coffee farmers in Kenya realize a production rate of 300-400 kilos per hectare. Large-scale farms (454) or estates contribute 35% of Kenyan coffee's total output.
Fun fact: Besides producing some of the best Arabica coffee worldwide, Kenya is a tea-drinking country.



Varieties of (Kahawa) Kenyan Coffee
According to the Karlo Institute Website, the coffee research foundation produces four commercial varieties of Arabica coffee, each recommended based on specific attitudes.
K7 – low-altitude coffee areas with serious Coffee Leaf Rust (CLR).
SL 28 – medium to high coffee areas without serious CLR.
SL 34 – High coffee zone with good rainfall.
Ruiru 11 – all coffee-growing areas. Resistant to both Coffee Berry Disease (CBD) and CLR.
There are 8 Kenyan coffee bean grades: AA, AB, C, PB, T, T T, UG1, UG2, and UG3. Grades are given to coffee beans before roasting to determine their size. Bean size is essential since beans of the same size roast at the same rates.
Solai Coffee is an Investor
Solai Coffee's sister company, the Liwani Coffee Estate in Kenya, exists to preserve and elevate the potential of Kenyan coffee to local and international markets. The Liwani Coffee Estate is home to the SL28, Ruiru 11, and Batian Coffee, an Arabica breed resistant to coffee berry disease and leaf rust.
Our farm is in the Rift Valley, Nakuru, Solai, a village known for its many coffee estates. With an excellent elevation of 1952m and well-aerated soils, Solai estates boast high-quality yields of Kenyan coffee. 
Hash weather often affects output compared to the Kenyan highlands. However, the potential for expansion is undeniable, with efforts to increase irrigation for coffee farming.
Major Trends in Growing Kenyan Coffee
Besides being a sanctuary of exceptional Arabic coffee, Kenyan coffee farmers face challenges in commercializing the liquid gold. Different from the 1980s, coffee farmers are reluctant to expand their investment in this delightful crop, choosing to diversify in other cash crops for better returns. 
The Coffee Research Foundation also reported that coffee farmers in Kenya average 65 years of age, and this explains the precision and excellent quality of coffee berries but calls for more engagement of younger generations in the sector.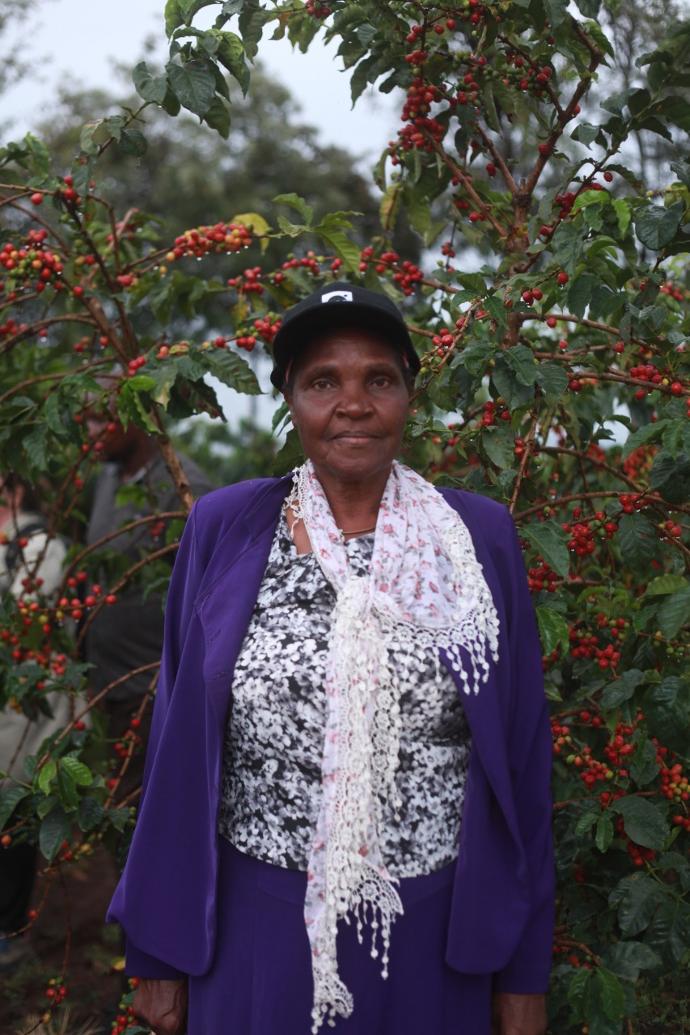 Conclusion
Kahawa, or Kenyan coffee, has deep roots in coffee farming. Besides contributing globally to the 1.6 billion cups served daily, Kenyan coffee still has untapped potential. Solai coffee exists to protect a farmer's interests while paying attention to the practice's environmental impacts to preserve the production of these unique coffee beans. With more commercialization, Kenyan coffee farmers now bring exquisite arabica coffee beans to our tables worldwide!
Experience the best of the pack! Kenyan coffee borrows its magic from the fruit-growing region of Solai and Kenyan highlands, which give rise to fruity notes and bright flavors that will leave your taste buds tickling for more!


Contact Solai Coffee and enjoy East African Best!