Gone are the days when coffee aficionados had to stick to a certain "black coffee with two sugars."
With over 800 known coffee flavors, coffee lovers are spoilt for choice. Perhaps more is needed as coffee lovers persist in inventing new alternatives for an even better coffee experience. However, only a few coffee blends fit the bill as Cocoa in Coffee, a mix that combines your favorite brew infused with cocoa powder for a flavorful, healthy pack that checks your body weight in one go!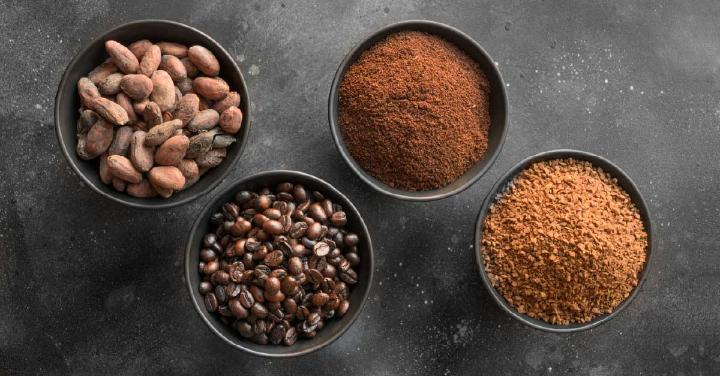 Four bowls on display showcasing the ingredients for a cocoa-infused coffee brew.

Does Cocoa in Coffee Taste Any Good?
Absolutely! The cocoa powder taste in coffee is a flavorful delight that makes a great alternative to the regular cup. Adding cocoa powder to coffee creates the famous Mocha, giving a mildly bitter and chocolate-like flavor, which has earned a respectable spot in many coffee shops as a fan favorite.
Note: It may sound similar, but its important not to mix up cocoa and cacao powder. Cacao powder is directly made from raw cacao beans, whereas cocoa is extracted from roasted ones.
Cocoa Powder in Coffee Recipe
Adding cocoa powder to coffee is an exceptional treat and a great way of improving metabolism and weight management! Now, let's put this knowledge into practice with a simple and delicious recipe for cocoa-infused coffee that can kick start your day and support your weight loss goals.
Ingredients:
1 cup of freshly brewed coffee 
One tablespoon of unsweetened cocoa powder
One teaspoon of your preferred sweetener (honey is recommendable)
1/4 cup of unsweetened almond milk (feel free to try your preferred milk)
Instructions:
1. Brew your favorite coffee (use your preferred method).
2. Mix unsweetened cocoa powder and sweetener (if desired) in a separate cup. Add a pint amount of hot water to create a paste.
3. When ready, pour the coffee into a large cup or blender.
4. Add the cocoa paste to the coffee and blend or whisk vigorously until well combined.
5. Warm almond milk (you can use your preferred milk). Do not boil. 
6. Pour the warm almond milk into the coffee-cocoa mixture and stir well.
7. Your cocoa-infused coffee is ready to enjoy! You can adjust the sweetness and milk to your taste.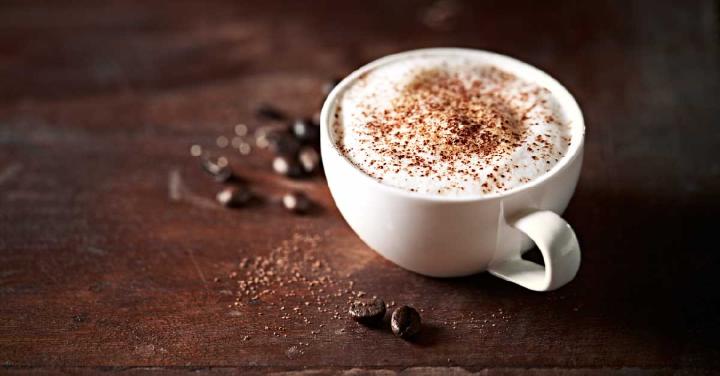 A cup of cocoa-infused coffee brew

How Much Cocoa Powder Do You Add to Coffee
While you are spoilt for choice, how much cocoa powder you add to coffee depends on the type at your disposal. A pint of dark chocolate cocoa powder should do the trick.

Unsweetened cocoa powders (recommendable) are known to elevate a bitter, chocolate taste, unlike Dutch-processed cocoa powders, which are pretty mild "chocolatey" in flavor.
Why Adding Cocoa Powder in Coffee is a Worth Try
As a daily habit, Cocoa in Coffee should be high in your pecking order for many reasons. While the delightful taste of cocoa powder and coffee is the highlight, the flavor is not the only charm in this brew. This brew offers a range of health advantages, including improved gut health and support for weight reduction or maintenance.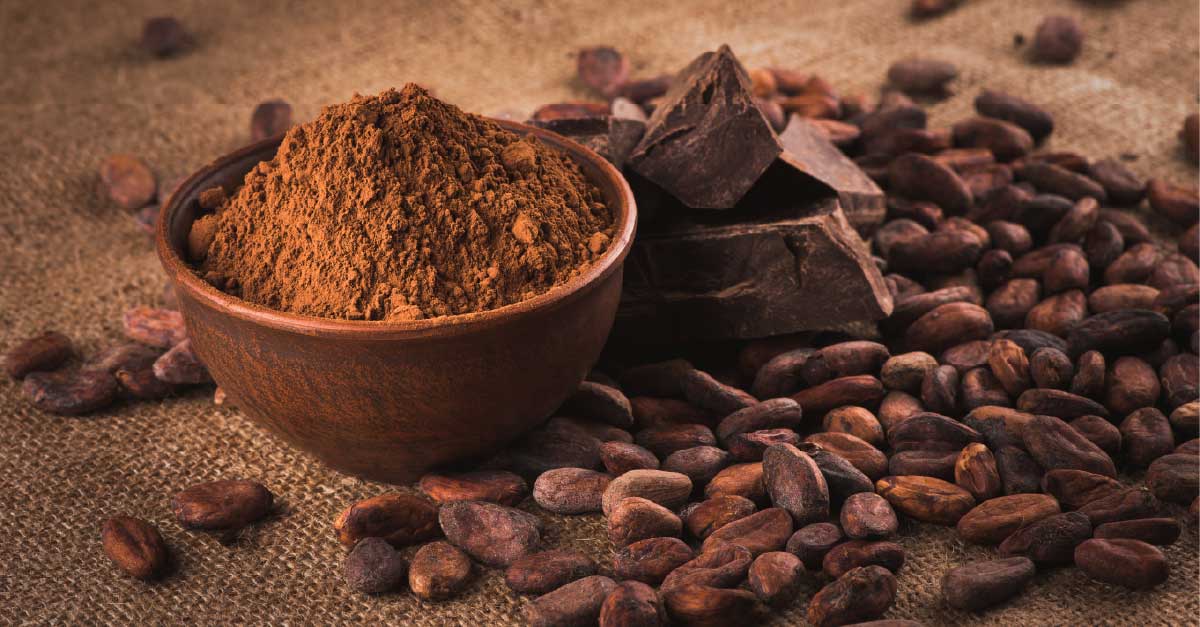 A bowl of cocoa powder alongside roasted cacao beans and cocoa bars.

Cocoa Powder in Coffee as Weight Loss Regime
Did you know a healthy gut translates to improved metabolism and weight management? 
The human gut is home to trillions of gut microbiomes, among other microorganisms. The microbiomes play a vital role in maintaining optimal health by enabling sufficient metabolism and, ultimately, weight management. 
An imbalance of microbiomes and other bacteria can cause various health issues, including weight gain. Conversely, a healthy gut microbiome can boost metabolism, enhance nutrient absorption, and reduce inflammation – vital for successful weight management.
Healthy Benefits of Adding Cocoa Powder to Coffee
Cocoa powder found in your favorite chocolate source comes from roasted cacao beans and is renowned for its rich, chocolatey flavor and numerous health benefits. 
Cocoa is packed with antioxidants and minerals like magnesium and iron and is associated with improved cardiovascular health and mood. But what's particularly fascinating is its potential to support gut health and weight loss.
Do you suffer from inflammation sensations in the gut? Adding cocoa to coffee can be a delightful solution for you! Cocoa is rich in polyphenols and anti-inflammatory antioxidants that promise to keep stomach upsets at bay.
Your delightful cup of cocoa-infused coffee is an excellent source of dietary fiber. Fiber is known to be a key factor in promoting healthy metabolism and growth of gut flora. A healthy gut means better appetite and weight management.
Mood and Cravings Control
Theo-bromine and phenylethylamine found in cocoa are natural mood boosters and reduce cravings for calorie-dense snacks. For millennial coffee lovers on weight loss journeys, cocoa in coffee is a viable option in that strict diet!
Some studies suggest that antioxidants, among other natural compounds in cocoa, have a modest impact on enhancing metabolism, a natural way of burning calories. 
Your Dynamic Snippet will be displayed here... This message is displayed because you did not provided both a filter and a template to use.

While a flavor-packed revelation to coffee drinkers, Cocoa in Coffee is more than an alternative beverage. This delightful concoction not only adds a rich, chocolatey flavor to your morning routine but also harnesses the gut-friendly benefits of cocoa powder. 
It's a great way to support your weight loss journey while indulging in a guilt-free treat. So, savor the deliciousness of cocoa-infused coffee and nourish your gut on your path to a healthier, slimmer you.
And how better to brew exceptional Cocoa-Infused Coffees than using Kenyan Coffee beans from Solai Coffee? 
Enjoy unique flavors from Kenya's best kahawa!